Today I am sharing with you my favorite door decorations from the webosphere! I think all of these are totally cute and doable! What I mean by that is when I go searching for a door decoration project or any new project it has to be something that I can reasonably do in an afternoon with supplies I can actually find here in the Midwest! I wanted to share decor that you can actually do even if you are not that "krafty".
I love the leaves and wood stem! I also love that it is a pumpkin that can start in September and last through November!!!! This would NOT be that hard. The base, and burlap are readily available at craft stores, as are the fake leaves. The branch should be easy to find with a walk in the woods or a friend who cuts firewood. If you live in a area with no trees you can totally leave it off!
I love that it's not a wreath, I love the simplicity, and I love how versatile it can be super easy to change up, put another saying on the other side and simply flip over, add flowers, leaves or a bow and completely change the look! This is probably the most difficult of the door decorations I am sharing today. I am super lucky to have a very handy hubby who can and does cut things like this for me but I am sure you could find something similar at a craft store! As for the lettering I would use my cameo and vinyl but the original creator creates it by hand!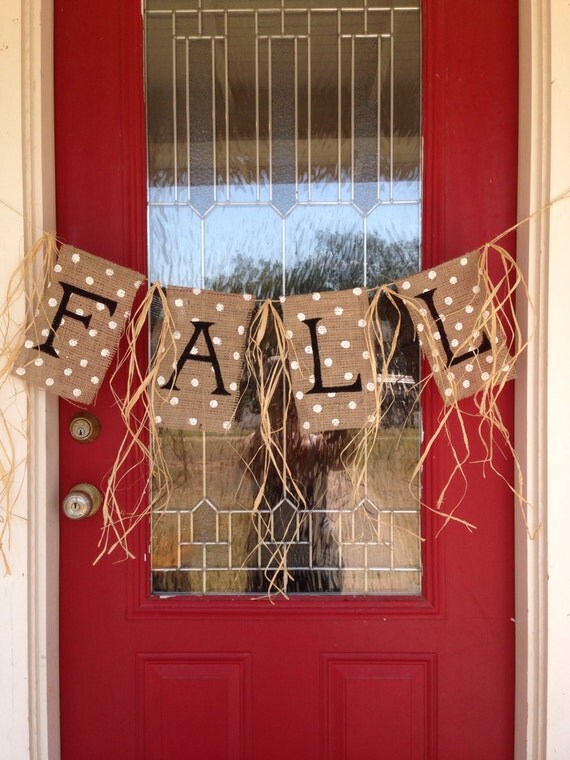 I love banners so of course I love this! And it would be SO easy to make! Just paint, burlap and raffia all available at craft stores even Wal-Mart!
And I love this Fall Yarn wreath from
Mama Bub
.
I think yarn wreaths are perfect for fall!!! To me they are everything I love about fall! Soft warm sweaters and beautiful fall colors! What's not to love?!?! And there are so many options! This is also super easy to make! The felt flowers can be time consuming (I have a friend who once made a wreath entirely out of them! She is amazing and a little crazy) but you could totally use fake flowers for a simpler less time consuming wreath!
Things to love about this - 1)Finding and painting pine cones as a family what fun! 2) Simple easy decor that will last all fall! 3) easily adaptable for other seasons loving this idea for Winter! I see blues and glitter! 4) So versatile with so many options! If you like in an area without pine cones they sell them at craft stores, making this a super easy fall decoration!
I love monograms even though mine is so tricky! You could easily make more than one wreath and simply move the jute wrapped letter from wreath to wreath to change the seasons! I also love the fabric flowers which are so easy and the grapevine wreath. There are also so many options for the bow! These grapevine wreaths are easy to find at craft stores and even the Dollar Tree! The fabric, jute, and letter are available at craft stores!
And finally, I had to include this Flannel and Denim wreath by
the 36th Avenue
.
I love this wreath for many reasons but mostly because I have a stack of flannel shirts and old denim sitting in a pile waiting to be made into a quilt. One is going to be made into this wreath very soon. They belonged to the most amazing man I have ever known and I can't wait to make this wreath! It will be sad but healing. I love the concept of this wreath because again it reminds me of some of the best parts of fall! This wreath can be made from old clothing or clothing purchased at thrift stores for very little!
Thanks for looking today!
Which one is your favorite?
What's currently hanging on your door?
Stay tuned as at least two of these are on my immediate to do list!
Find Joy in the Journey,
Tess