Wowsers! We had some serious storms in the area last night!
Thankfully we didn't have any damage or power out!
I know others not far from here did, so I am praying for those people. I need to call my mom and see how she fared.
Today I am working on LOTS of new things for my Teachers Pay Teachers Store - The Krafty Teacher!
But I also have a FREE Worksheet to share with you and I am linking up with
The Teaching Tribune
for their Worksheet Wednesday!
Here is an
Electricity Worksheet
good for 4th Grade and above that is normally $2 but is FREE today and tomorrow (or until I remember to switch it back!)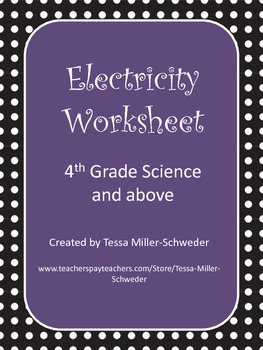 I still have my half price items up from yesterday as well! Check out my store and the link up for lots of free worksheets! I would really love it, if you would leave me some Feedback on the freebies or any product! And I would be over the moon happy if you would follow my store to learn about updates and new products!
Find Joy in the Journey,
Tess