Hello lovelies! I have my December Julep Maven box to share with you today and a Mani using the Julep polishes! I have tried 3 different beauty boxes and I only still subscribe to Julep! They are my favorite! Yes they are 19.99 a month but you get $40 or more worth of product! If you are a big nail polish person then they are definitely for you!
Julep is a monthly subscription box. It is FREE your first month. Each month you will be notified that the window is open and you can go in and change your preferences and make color choices! I love the ability to choose. For every month you subscribe you earn points and you can earn more when friends and family try Julep. You can redeem your points for FREE Monthly boxes! It's more than just nail polish so don't worry about getting too much nail polish (Is there such a thing?) They have great eyeshadow, lip color, blush and body products as well! They have fun deals and limited edition boxes all the time too! If you would like to check it out I would LOVE it if you would use my referral link
HERE.
On to the reveal already! I got two polishes and a beautiful eyeshadow this month! The nail colors are Ilga the deep winey red, and Sienna the beautiful shimmery gold. I used them both in the main below. Stunning, rich colors that are perfect for the holidays.
Here is a picture of the eye shadow. It is bigger than Urban Decay's individual shadows and is pretty close to their Booty Call (which is good cause mine is getting low) but maybe less pink. I think that is well worth $20!
Now on to the Mani!
First I painted my nails with a nice neutral from Julep called Alexandra.
Let that dry completely, then I put vinyls (you could use painters tape) at a diagonal across the nail.
Then I painted the whole nail with Ilga. Then slowly and carefully remove the vinyls. I find tweezers help greatly with this. Don't wait for the polish to dry, do this as soon as you are done painting.
I repeated on each nail and added thin gold stripes between the red (I use a striper brush).
And viola! A classy spin on a candy cane mani! I find it interesting that LAST December my very first mani I did and posted was a Candy Cane mani. See it
HERE
. I would say I have improved a LOT. I know I still have lots of room for improvement.
So what do you think?
Have you tried Julep? What did you think? What's your favorite subscription box?
Linking up with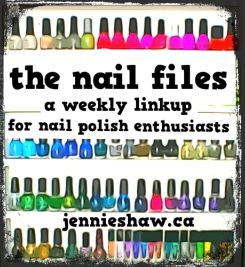 Find Joy in the Journey,
Tess